The Mystery of Chaco Canyon:
Unveiling the Ancient Astronomy
Since its release in 2000, our award-winning film, The Mystery of Chaco Canyon, has aired more than 10,000 times on 95% of PBS stations across the country. New Mexico PBS has broadcast this full-length documentary more than 90 times. Learn more about our captivating exploration of ancient astronomy in the American Southwest, directed by the Solstice Project founder Anna Sofaer and narrated by Robert Redford.
HOW TO WATCH:
We're thrilled to announce that our award-winning film, "The Mystery of Chaco Canyon" is now streaming on Amazon Prime CLICK HERE
You can now purchase the DVD of our full-length documentary on Amazon CLICK HERE
Rent and stream the full version on Vimeo CLICK HERE
HOME VERSION
EDUCATIONAL VERSION
The Mystery of Chaco Canyon continues to impact and inform audiences in significant ways; 800 K-12 schools and colleges have purchased copies of The Mystery of Chaco Canyon to teach about the remarkable archaeoastronomy of the ancient Pueblo people of Chaco. The film has also streamed at 130 colleges and universities where 5,000 viewings have taken place in classrooms, student centers, dorm rooms and apartments for a total time viewed of 1,800 hours.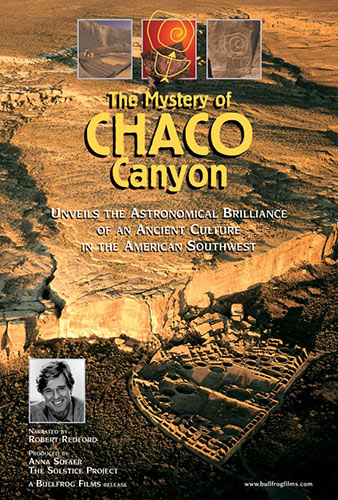 Unveiling the ancient astronomy of southwestern Pueblo Indians
56 minutes, Color
Grade Level: 7-12, College, Adult
US Release Date: 1999; Copyright Date: 1999
ISBN: 1-56029-812-X

Directed by Anna Sofaer
Produced by The Solstice Project
Narrated by Robert Redford
Written by Anna Sofaer and Matt Dibble
Music by Michael Stearns
The Mystery of Chaco Canyon examines the deep enigmas presented by the massive prehistoric remains found in Chaco Canyon in northwestern New Mexico. It is the summation of 20 years of research. The film reveals that between 850 and 1150 AD, the Chacoan people designed and constructed massive ceremonial buildings in a complex celestial pattern throughout a vast desert region. Aerial and time lapse footage, computer modeling, and interviews with scholars show how the Chacoan culture designed, oriented and located its major buildings in relationship to the sun and moon. Pueblo Indians, descendants of the Chacoan people, regard Chaco as a place where their ancestors lived in a sacred past. Pueblo leaders speak of the significance of Chaco to the Pueblo world today.
 View The Promo Trailer:
10 minute Intro clip to the movie:
The film challenges the notion that Chaco Canyon was primarily a trade and redistribution center. Rather it argues that it was a center of astronomy and cosmology and that a primary purpose for the construction of the elaborate Chacoan buildings and certain roads was to express astronomical interests and to be integral parts of a celestial patterning.

While the Chacoans left no written text to help us to understand their culture, their thoughts are preserved in the language of their architecture, roads and light markings. Landscape, directions, sun and moon, and movement of shadow and light were the materials used by the Chacoan architects and builders to express their knowledge of an order in the universe.

This is the long-awaited sequel to Anna Sofaer's classic film THE SUN DAGGER, which changed forever our perception of America's earliest Indian peoples.
The Mystery of Chaco Canyon" and "The Sun Dagger" are available for HOME use and for EDUCATIONAL use. The EDUCATIONAL version has an accompanying Teachers Study Guide. Half hour versions of both films are avaliable for teaching (please email info@bullfrogfilms.com for this option).
WHAT THEY ARE SAYING
"I am grateful to Anna Sofaer for involving me in her decades-long passion to explain this extraordinary and magical place."
Robert Redford
"The video…becomes part of the ongoing dialogue between archeologists, anthropologists, and native peoples…(It's) a multi-level phenomenon, like Chaco, which embraces complexity, beauty and mystery."
Rina Swentzell, Architect, Santa Clara Pueblo
"A captivating look at one of the most impressive archaeological sites in North America…Anna Sofaer reveals the solar and lunar complexity of Chacoan buildings with impressive visual economy and clarity. In the process, we get a whole new picture of the intelligence at work behind Chacoan society and its architecture…The Mystery of Chaco Canyon interweaves a narrative that is both attentive to indigenous thought and values, and robustly grounded in the rigors of scientific method. Well-paced and absorbing, simultaneously poetic and analytical, this film provides a new benchmark of understanding for serious studies of ancestral-Pueblo astronomy and culture."
Dr. Peter Whiteley, Dept. of Anthropology, American Museum of Natural History
Awards for The Mystery of Chaco Canyon
Taos Talking Picture Festival
Silver Plaque, The Chicago International Television Competition
Bronze Plaque, Columbus International Film & Video Festival
Honorable Mention, The Archaeology Channel International Film & Video Festival
American Museum of Natural History, New York
National Museum of National History, Smithsonian Institution, Washington DC
Aboriginal Voices Festival, Toronto
Hot Spring Documentary Film Festival
Heard Museum Indigenous Film Festival
Receive Action Alerts & Project Updates by email from us!