Action for Preservation of Chaco
We are pleased with the encouraging news from the Biden administration. U.S. Interior Secretary Deb Haaland announced it would seek to withdraw federal land holdings within 10 miles of the Chaco Culture National Park boundary, making the area off-limits to oil and gas leasing for 20 years. The action halts new leases in the area for the next two years while federal officials consider the proposed withdrawal. We are proud that the LiDAR work of the Solstice Project's colleague Rich Friedman showing Chaco roads, helped inform the government's decision.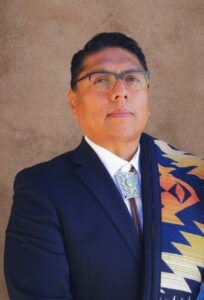 We've led protests on fracking at Chaco for years, and though we're relieved at the announcement, we're also fully aware that a protection bill needs to become law so that future administrations cannot undo it. Thanks to the efforts of U.S. Representative Teresa Leger Fernandez, and Senators Martin Heinrich and Ben Ray Lujan, such a bill is underway. Further, our latest findings indicate Chaco sites extend well beyond the 10-mile radius.
Our friend, Governor Brian Vallo of Acoma Pueblo, had this to say:
Our fight to protect this sacred place is rooted in what our elders teach us and what we know as descendants of those who settled here. That is our responsibility – to maintain our connection, our deep-felt obligation and protective stewardship of this sacred place. Governor Brian Vallo
Fracking: Recent History
During a recent

 

Senate Committee hearing on Energy and Natural Resources, New Mexico Senator Martin Heinrich called for permanent protection of the 10-mile buffer zone surrounding Chaco Canyon from oil and gas development. Watch his speech here.
---
BREAKING NEWS: Interior Secretary Ryan Zinke has cancelled an upcoming oil and gas lease of 4,434 acres in the Greater Chaco landscape, where 91% of public land is already leased!! We are very pleased with this decision and commend the efforts by many colleagues and supporters to defend Greater Chaco. As a result of the ruling, the BLM will need to conduct further tribal consultation and prepare an extensive cultural report describing how oil and gas leasing would affect the proposed area. For the full Albuquerque Journal story, visit this link.
---
Watch and share the Solstice Project's 4-minute video "Fracking Threatens Chaco's Sacred American Heritage" Please share this informative piece widely with others concerned for Chaco's protection.
Resistance to the BLM and BIA's decisions to promote fracking has been strong and widespread. Tribal groups, businesses, farms, citizens, and other groups have already filed 120 appeals that strongly condemn the decision to lease these parcels. The All Pueblo Council of Governors released a protest, and the Pueblo of Acoma have also filed an independent appeal.
"This is the most appeals ever received around an oil and gas lease sale in New Mexico and this unprecedented show of opposition is a clear sign that the Bureau of Land Management has no regard for public concerns," said Rebecca Sobel, WildEarth Guardians' Senior Climate and Energy Campaign.
For the latest on oil and gas activity in the Greater Chaco region, see visit Frack Off Chaco and the Coalition to Protect Greater Chaco. See also the attached map showing sites currently up for BLM leasing.
Thank you for taking action for Chaco!
Donate and support our efforts to preserve Chaco Canyon.
Receive Action Alerts & Project Updates by email from us!